http://espn.go.com/colleges/texas/football/story/_/id/8363805/nate-boyer-texas-longhorns-extensive-military-background
Life Experiences Fuel Nate Boyer
By William Wilkerson on 9/12/2012
Horns' Boyer Discusses Military Past
AUSTIN, Texas — There's something to be said for those who have spent time working refugee camps in the Darfur region of Sudan. Equal respect must be given to anyone that has spent time coaching autistic children through therapy sessions.
For those brave and skilled enough to join the United States Army Special Forces, also known as the Green Berets, a tip of the hat and endless amounts of gratitude should be bestowed upon you.
"I chose Texas because I wanted to play for a great program. I wanted to be a part of a great university. It's the same reason why I went into the Special Forces.

"— Texas Longhorns deep snapper Nate Boyer.
But what can be said for the type of selfless, driven individual that has taken time out of their life to accomplish all three of these acts?
Never enough, though we can start by telling 31-year-old Longhorns sophomore snapper Nate Boyer, thank you.
"I think it is the most unique story I've ever seen," Texas head coach Mack Brown said.
Unique in the way that Boyer went from aspiring actor, to working on a fishing boat, to teaching autistic kids in Los Angeles and then to earning a Bronze Star in the Army — a military decoration awarded for bravery, acts of merit or meritorious service.
Unique in the way that Boyer was not only able to walk-on at Texas despite never having played football before, but also doing enough since redshirting in 2010 to earn a scholarship in August.
"It's really inspirational just to hear his story," said Longhorns right guard Mason Walters, who roomed with Boyer last year.
The entire story of 'Grandpa,' as he is known to his younger teammates, won't be told here. Boyer refuses to talk about his military experiences, including what he did to earn the Bronze Star. But there's enough to him without knowing those facts that should make one appreciate even more the player that Texas has asked to carry the American Flag when it runs out onto the field this season.
As his mother, Laura Boyer said, "He has lived it seems about three lives so far and all of them have been good."
A CALL TO ARMS
Boyer remembers vividly the call he received from his mother in the early morning hours on this date, 11 years ago.
"My phone rang (at) about five or six in the morning," Boyer said. "It was my mom and she told me to turn on the TV."
Like the rest of the country, Boyer couldn't have imagined what he was about to see: the terrorist attacks of Sept. 11, 2001.
"Everyone knows what that moment was like," he said. "It was unbelievable."
Boyer tossed around the idea of joining the Army after graduating from Valley Christian High School in Dublin, Calif., but was sold after 9/11.
"It is the reason a lot of people came in and stayed in," Boyer said. "It's the reason a lot of guys that we will remember forever laid down their lives. It's always hard this time of the year to remember all that stuff. It's inspiring at the same time and the reason I joined."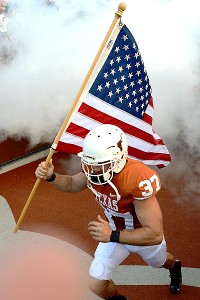 Cal Sport Media via AP ImagesBoyer said he chose to attend Texas because he wanted to 'learn more from people who are the best at what they do.'
Upon his return from doing relief work in Africa for six weeks, 23-year-old Boyer not only joined the Army three months later but also tried out for the Special Forces unit after basic training and made it.
"I was just so proud he had the guts to do it," Laura Boyer said. "A lot of it is about sticking with it. Physically, he's always been able to keep going. As a mom you think you know your kids but I didn't realize how determined he was. He is a pretty amazing guy."
In the six years he spent on Active Duty, he served with 1st Special Forces Group in Okinawa, Japan, and 10th Group at Fort Carson, Colo.
By 2009, Boyer's active enlistment was up and he transitioned to the National Guard, of which he is still a member. He also began looking into places to go to school.
Texas appealed to him for many reasons, including the state's compatibility with the GI-Bill, which he was going to use to pay for college. So a Longhorn he became.
"I chose Texas because I wanted to play for a great program," he said. "I wanted to be a part of a great university. It's the same reason why I went into the Special Forces. Yeah I wanted to be in the Army but I wanted to do that with the best guys around me. I'm going to learn more from people who are the best at what they do."
UNFAMILIAR TERRITORY
Boyer played basketball and baseball in high school but wasn't able to play football because Valley Christian didn't have a team.
So when he got the idea to try out for the Texas football team he didn't exactly have much to go on. What he did have though was a huge heart, a history of overcoming adversity and a pain threshold unlike those of his counterparts.
"I knew I was in good shape," Boyer said, laughing. "I definitely had good endurance but I hadn't played football before. So I came on in the spring and everyone was just pushing you to see how far you could go. That's how they do the tryout here. It's really about what the guys can handle physically. It's not anything in pads. It sucks. It's not fun."
True to form, Boyer did what he had to and earned a spot on the team.
"When I joined the military I had never shot a gun, but I figured it out," Boyer said. "I know it is possible to do anything in this life if you believe in yourself and work harder than everyone else around you. Definitely my time in military helped with that belief. I knew I could just figure it out."
The next step was to figure out what position to play. Boyer, who stands 5-foot-11 and 190 pounds, took a look at the depth chart and decided to become a long snapper.
"Last year both our long snappers were seniors so the depth chart was looking thin," he said. "I was looking for any way to help the team. This was a way to get on the field so I figured I could do that. I just watched the other guys and emulated them."
Boyer had never snapped before but he knew he could figure it out with repetition. The process was slow and methodical, just as it was when he learned to shoot a pistol for the first time.
"I remember when I was learning to shoot a pistol they have you dry fire for hours before they let you shoot a round," he said. "And then when they let you shoot a round it is real slow. Everything is perfect practice. It was the same thing for me in snapping. I am still not that good but I am getting there."
He was good enough to get his first start snapping extra points and field goals against New Mexico.
CAN'T PUT A PRICE ON EXPERIENCE
His contributions on extra points and field goals are key, but it's what he brings from a leadership and life experience standpoint that could be his best attribute to the Longhorns.
"He does say that what we do here is similar to the military," Brown said, "but that your worst day here is better than their best day there. He says, 'You have no clue and I don't want to hear you griping. When you are at war you need to know what the guy to the left and right of you are going to do and you need to trust them.' He said 'At war, they die if you make a poor decision. So understand we are talking about a game here and not life or death.'"
As Longhorns defensive coordinator Manny Diaz said Monday, "Our military forces, they have to go undefeated every year. They can't go 11-1."
Boyer's life experiences in the military might not be over. He left that option available when he enlisted into the Texas National Guard as a staff sergeant on Feb. 24 in Austin during Texas' first practice of the spring season.
He has already done more than enough if he's never called back to duty, though. And for that, we say thank you.